Review of Why Not Bob Biodegradable Disposable Dishes
Author: steve Published Under: Nature and Science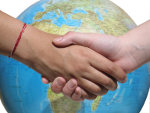 I was checking out Eco Office Girls last week, which is a popular blog that covers environmental issues, and I decided to enter one of the cool contests that they are always having.
I was fortunate enough to win this particular contest, which was for a party pack of biodegradable plates and eating utensils from the Why Not Bob Store.
This was really exciting, because Robert, the owner of Why Not Bod Store, sells a wide variety of biodegradable household items made from sugarcane and corn. This includes everything from plates and cups, to bags for leaves, all of which are designed to safely decompose in within four months. They also offer a biodegradable alternative to those throwaway plastic food storage containers that are so popular now.
What makes Roberts business so important is that everyday, millions and millions of these same sort of products are used, such as plastic cups and plates, but unfortunately they are not biodegradable. Instead, they litter our highways and streets, as well as clogging our landfills.
A switch to biodegradable dishes, like those offered at whynotbobstore.net, could therefore have an enormous impact on the environment, especially if it were implemented at gas stations and fast food restaurants, where much of this waste is generated.
Review of the Why Not Bob Store Party Pack
For winning the contest, I received a Party Pack, which includes:
50 count 10" 3 compartment dinner plates
50 count 6" dessert plates
50 count 12 oz green stripe cold cup
50 count fork,spoon,knife wrapped with napkin
50 count 12 oz bowl
5 count 13 gallon bio bags
One of my first thoughts when I opened the box was how sturdy all the plates and bowls were. They are not flimsy at all and are comparable to what you would expect from a set of top shelf disposable dishes sold at most grocery stores. Of course, unlike the ones at the grocery stores, the products offered by Why Not Bob Store are biodegradable.
The Forks and Spoons are equally strong and unlike plastic spoons, these ones do not shatter or break. I was also very impressed with the cups, which are just as strong as plastic cups, while also being biodegradable.
The biodegradable leaf bags were also strong and since I have some similarly styled commercial-grade plastic bags, I decided to compare the strength of the two bags. The plastic bags tore and stretched easily, while the bio-bags only gave a little bit.
The Test Run
I of course had to take the plates for a test drive, so went ahead and fried up some eggs. Not wanting to use one of the larger plates just for the eggs, I decided to use a 6 inch dessert plate. Since they are smaller and do not have the compartments, they are of course thinner than the larger plates, so I figured this would be the best stress test for the material used as well.
The plate, needless to say, held up wonderfully and could have been used again. I even let the eggs and cheese stay there longer than they would have otherwise, but the desert dishes handled the heat and moisture without problem. The fork was equally impressive, as was the cup.
Materials Used
After reading a little bit about the materials used in these plates, I was even more impressed. Many of them not only allow the dishes to be safely composted, but also help to replace petroleum based manufacturing process, which is traditionally used when manufacturing disposable dishes.
The items that contain sugarcane, use the remnants of sugarcane that has already been processed. This includes things like stalks, which would have ordinarily been thrown away or burned.
Plant Starch Material is also an important ingredient, which is made up of starches and other biodegradable fillers. Traditionally, Plant Starch Material had been made from potato starches, but now, many are experimenting with using other vegetables. Plant Starch Material can be used with both hot and cold foods, handling temperatures up to 220 degrees.
One of the cool things about plant starch material and the other materials used in these biodegradable dishes is that it is not just an environmentally friendly product, but it is also manufactured using environmentally friendly practices.
Final Thoughts
I am very impressed with the quality of the Biodegradable Dishes and cutlery offered by the Whats Up Bob Store. The attention to environmental factors throughout the entire manufacturing process is also obviously very important.
Ultimately, a move towards biodegradable manufacturing in our disposable products is essential to the well being of the earth, as well as being the only real option for sustainability, making these sorts of products all the more important.
I am glad I was exposed to the important products offered by the Why Not Bob Store, while visiting Eco-Office Gals. Eco Office Gals is a blog that covers a lot of very important environmental issues and is instrumental in helping to raise awareness about businesses that are going green.
No Comments Yet
Add Comment