What is a Lift Recliner?
Author: MedicalMan Published Under: Health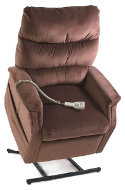 There are many individuals who find that it is difficult to stand up unassisted, but this is most common in those who are elderly, especially seniors with arthritis. However, while senior arthritis is a common factor that makes standing more difficult, there are many other conditions that can also contribute to this problem. One of the most common ways of increasing accessibility at home and making standing much easier is to use a lift recliner.
Lift recliners are special types of chairs that are designed to help make it much easier to stand up or sit down. Typically, a lift recliner looks like what you would expect a regular recliner or Lazy-Boy chair to look like, complete with footrest and reclining backrest. However, a powerful lifting system is installed in the base of the chair, which is used to raise the chair and the person using it upwards. At its peak, the seat of the lift recliner is positioned in such a manner to allow the senior to either exit on their feet or sit down safely.
Lift chairs come in all different shapes and sizes, with a number of different styles to choose from. From chairs that present a very classic and simple design, to others that come with classy leather fabric and a more modern look, it is seldom hard to find a lift chair that is functional and attractive, matching the design of the homes existing decor. Most quality lift chairs, like those offered by Pride Mobility and Golden Technologies, come with several basic fabrics to choose from, as well as having a wide varity of upgradeable fabrics to choose from.
Being able to easily use the lift chair is very important, even more so for seniors, who need to be able to safely and comfortably use the lift recliner without assistance. Most lift chairs use a simple hand control, which resembles a TV remote, but is much simpler and easier to use. Unlike most television remote controls, which are packed with very small and confusing button patterns, a lift chair hand control is designed with simplicity and ease of use in mind. Usually, the hand control has only a few buttons and they are large and spaced far enough apart that the locations are easy to learn and the control is easy to use.
One of the main things that makes the design of a lift chair hand control work so well is that it is physically attached to the chair, making it impossible to loose and guaranteeing that it will always be within an arms reach of the user. Also, since there are no batteries in the hand control, there is no regular maintenance that the senior must preform.
As mentioned above, both Pride Lift Chairs and Golden Lift Chairs are well respected in the medical industry. These manufacturers have been producing lift recliners for around 25 years, both getting their start making electric lift chairs, while other manufacturers where still making the unsafe spring type lift recliners. Both companies have also since expanded their business to include other types of home medical equipment.
No Comments Yet
Add Comment