Dislodgeable Arsenic From Pressure Treated Wood Decks Poses Threat
Author: tiger Published Under: Health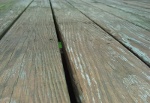 Arsenic is a very poisonous chemical, which is used in many industries and has a number of applications. If you are familiar with the building industry, than you know that arsenic has long been used to create weather treated lumber, which is used on decks, fences, and other areas where the wood will be exposed to the elements.
Since the discovery that arsenic treated wood can be dangerous, leaching the chemical into the environment, it use in treating lumber has been largely discontinued in the United States since 2003, specifically in regards to residential building.
However, given that at its peak, the United States was using around 18000 tons of arsenic a year to treat wood, it is no surprise that arsenic treated wood is still very common. It can be found on most outdoor structures built before 2003, including playgrounds and docks.
This poses some serious risks, as in large enough portions, arsenic is deadly and it is also known to be a carcinogen, so even small doses can have very real health risks to those exposed to it.
In a recent study, scientists found that those who own homes with wooden porches and decks made out of arsenic treated wood had an alarming level of arsenic in their home and on their indoor floors.
Arsenic Treated Decks A Serious Threat
Scientists set out to determine how common it was for arsenic to spread from an outdoor structure indoors, so they studied the homes of those who had a deck or other outdoor wooden structure that was built prior to 2003, when arsenic treated wood was still common. The decks and porches had not been painted or otherwise treated in the past two years and were in varying degrees of repair.
Using wipe tests, which is similar to how the Housing and Urban Development Department test for lead dust, several areas in the home were wiped and the wiping material then checked for levels of arsenic. The study also checked how much arsenic transferred to a persons hand from touching various areas around the home.
They found that the amount of dislodgeable arsenic on a deck varied significantly. Among decks that had a high level of dislodgeable arsenic, the arsenic was much more likely to be tracked into the home and indoor levels in the home was also increased. Typically, indoor concentrations were highest the closest to the wooden structure and decreased as they moved away from the deck or porch. Also, washing ones hands did significantly decrease the level of transferred arsenic.
In conclusion, this study found that the level of dislodgeable arsenic on a deck was proportional to how much arsenic was found in the home, possibly more so than how much traffic passes over the wood and into the home.
Further, while more testing is needed, their results seem to suggest that similar levels of arsenic are present in areas with decks and porches as can be found in other structures, such as playgrounds. As is the case with those types of structures, the effect this will have on children, who are most at risk to arsenic exposure, greatly depends on how they interact with the wooden structure.
Source: Journal of Environmental Health; Jan2010, Vol. 72 Issue 6, p18-22
No Comments Yet
Add Comment