Improving the Dog Wheelchair
Author: tiger Published Under: Technology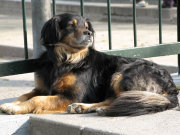 Usually when you think of a wheelchair, you might consider a manual one, like those found at an airport, or perhaps an electric power chair. These types of chairs work wonderfully for people and greatly improve the lives of millions of people every year, but there is one group that does not benefit from these chairs. This group is the dog.
When a dog is struck by a vehicle or receives another serious injury, the owner is faced with a very difficult decision. Caring for a dog that has been injured is a big responsibility that can also be very expensive. For years, there have been several wheelchairs available for dogs, but they have generally been pretty pricey. They can easily cost more than $1,000, which makes them completely un-affordable for many people.
Gina Bertocci saw this problem and decided to take action. Bertocci is a bioengineer at the University of Louisville and she has decided to create a wheelchair that is affordable and dependable. Her wheelchair is made to be constructed from regular supplies, most of which can be bought at a regular hardware store. This action in and of itself is very noble, but Bertocci took it one step farther and has decided to release the plans for free.
Her design is largely constructed from PVC pipe and is made in a manner that allows it to be quickly adjusted to fit dogs of different sizes. The only part that needs to be special ordered is the harness that will hold the dog, but these are inexpensive and available online from many different pet supply sites. The whole dog wheelchair can be built for under $200 in only a few hours.
Using the skills she learned at the University of Louisville, Bertocci used computer modeling to create this strong and lightweight dog wheelchair, which weighs only 12 pounds.
Many people consider their pet to be a part of the family and so when tragedy strikes, it can greatly affect the everyone, not only the dog.
Bertocci, who has a P.H.D and a Masters degree has said that, "My work in rehabilitation builds on my expertise in biomechanics, and I don't feel that should be limited to humans."
Update: Link to Download Dog Wheelchair Instructions
The inventor of this wheelchair, Dr. Gina Bertocci, has been kind enough to offer these instructions for free on her web site. To learn more about her dog wheelchair, or to download the dog wheelchair instructions, you can visit her site.
Please make sure you read her License and Terms of Use, then visit the link titled "Sign up for Wheelchair Instructions" to download the instructions.
Dr. Gina Bertocci's Web Site: Download Dog Wheelchair Plans
No Comments Yet
Add Comment